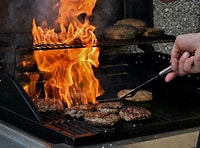 According to the National Fire Protection Agency, barbecue grills have been the cause of nearly 10,000 home fires annually. Based on annual averages since 2013, July and August are the peak months for grill fires. Not surprisingly, the leading causes of these fires was a lack of good barbecue cleaning or the development of leaks or breaks.
BBQ Service Pros barbecue-grill cleaning service can help. Consistent grill cleaning reduces smoke and dangerous flare-ups. Grease buildup is the leading cause of grill fires and the easiest way to ruin the taste of the meat. In addition to de-greasing your unit, our technicians also check the regulator and other key components of your grill. Don't wait, schedule your barbecue cleaning today!
Each time you barbecue, follow these simple steps to ensure your safety:
Remove grease or fat buildup from the grill racks and from the drip-trays underneath the grill.
Keep the lid open while lighting. Trapped propane under a lid will act like a bomb when lit. If your grill doesn't start immediately, wait five minutes for gas fumes to clear before trying again.
If you use a gas grill, check for dents in the propane tank. They could signal a potential leak.
Ensure the grill is positioned well away from the home, deck railings, and out from under eaves and overhanging branches.
At the beginning of each grilling season, check the gas tank hose for leaks. Turn on the gas (but don't light the grill) and apply a light soap and water solution to the hose. If there is a leak, you will see little bubbles at its source. At that point, turn off the gas and replace the hose or call a repairman.